So I went with my friends to the Royal Academy Of Art in Central London, in Picadilly Circus for Anish Kapoor's Art Exhibition. Upon stepping into the courtyard you are already greeted by this massive sculpture which is stunning. It makes you look at it from all sorts of angles and positions and really allow you to admire the work in detail. Each sphere reflects the surroundings in a different way, so it is different depending on the angle.
It costs £12 (full price)*, £4 (12-18)* to enter, and it ends in December.
*other tickets are available. Check on their website.
Upon entering the exhibition itself, you are greeted with this large, bronze like sculpture, and both the interior and the exterior are of interest... It reminds me of the Angel Of the North.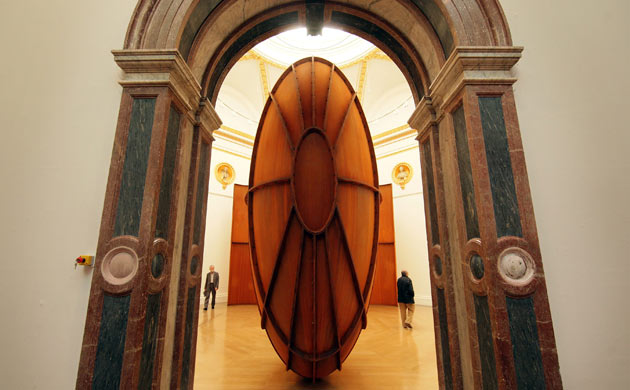 These sculptures are made of wood and cement, and I think spray painted after. These are all very interesting, slightly abstract, and I extremely like the warp of the wall, it is so subtle but interesting once you see it.
This is perhaps the main attraction and everyone gathered to see this. A wax cannon is fired every 20 minutes and made such an impactual noise... the man firing it was a bit over dramatic and after firing he retreated behind the projectile store to read a book. awww...
These were also quite interesting, the way the mirrors reflect differently. Each mirror is warped in some way, and distorts in some funny ways. The curved cylindrical one to the left made you so long you look like ET... but all of them are so sharp, crisp and clean... just wow.
This is quite interesting, and snake like... I really like the red, so sharp and glossy and is iconic. so well made.
This is a great piece, again a warp in the wall, and the sharp yellow lights up the room against the old door frames and the ceiling... just in your face.
Overall, the exhibition was very interesting, it showcased a range of spectacularly made art pieces. I would recommend you attend... what you make of it is up to you, but it does conjure thoughts and feelings... very provocative!
Here is a video that showcases the work where Anish Kapoor Discusses the work